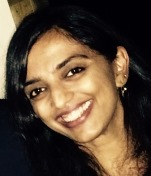 Rashmi Mohan
Qualifications: B.S., Computer Science, Santa Clara University
Title: Independent Consultant/Technologist
Affiliation: Member, ACM India Council; Program Chair, Grace Hopper Celebration India
Contact Details: r_rashmi@yahoo.com
Short CV: Rashmi Mohan is a technologist and an engineer. Until recently, she was a Senior Engineering Manager at Yahoo! Labs in Bangalore. She has spent 15+ years in various technical and management roles in the industry. She has a background in front-end engineering and led a group of scientists and engineers within Yahoo! Labs. Her work involved working with researchers and applied scientists in building prototypes and proof of concepts of the most cutting-edge ideas being developed in the Labs. She lives the journey of taking these ideas from research to product every day. She previously worked in the User Data and Analytics group at Yahoo! on reporting applications.
Rashmi is particularly interested in the cause of promoting and encouraging women in technology to aspire to and reach greater heights in their careers. She is an ACM India Council member and is actively involved in the CS community. Rashmi has been associated with the Grace Hopper Conference in Bangalore for five years as a mentor, advisory committee member and founding member of the All Women Hackathon. She has been leading the conference as a Program Chair for the past two years.
Title of Talk 1: Do You See What I See? Industry uses and applications of computer vision
Synopsis: Beauty lies in the eyes of the beholder, they say. In today's world, that could easily be swapped to represent information. Increasingly, the world of computing has been using the science behind what the eye perceives to help understand and solve complex technology problems. Through this talk, I will walk you through some the amazing uses of computer vision technology that is enabling us to extract data from the images that we see around us. This data is then used to enrich and engage audiences with the products that they use. Be it digital advertising or online retail, solving computer vision problems is being touted as the secret sauce towards commercial success. Let's explore some of the reasons why this is one of the trending topics in the world of computing.