ACM-W India
ACM-W India seeks to take forward the task of the ACM community, but with a particular focus on the empowerment of women in computing in India.
ACM-W supports, celebrates, and advocates internationally for the full engagement of women in all aspects of the computing field, providing a wide range of programs and services to ACM members and working in the larger community to advance the contributions of technical women. ACM-W Student Chapters are created to help recruit and retain students in computing programs. Professional Chapter-sponsored activities educate women about careers in computing and provide networking opportunities.
ACM-W India aims to provide social and professional support for women in computing, and its proposed activities include:
Facilitate technical growth of women by organizing invited lectures, seminars, workshops and informal meetings
Provide a platform for the sharing of information, resources, ideas and experiences
Support women in their professional career growth and help them to face the challenges in their work environment
Encourage them to participate in computer-related studies and research
ACM-W India's goal would be to also promote computer literacy, particularly in rural India, with the objective of empowering underprivileged women and children, to enable them to be independent and self-reliant.
ACM-W India Executive Committee (July 2019-June 2021)
Chair: Heena Timani, Independent Consultant
Vice Chair: Nutan Limaye, Indian Institute of Technology, Bombay
Secretary: Rituparna Chaki, University of Calcutta, Kolkata

Members-at-Large
Tejaswini Apte, Symbiosis Institute of Computer Studies and Research, Pune (July 2019-June 2023)
Chitra Babu, SSN College of Engineering, Chennai (July 2019-June 2023)
Kalika Bali, Microsoft Research India, Bengaluru (July 2017-June 2021)
Maushumi Barooah, Assam College of Engineering, Guwahati (July 2017-June 2021)
Lipika Dey, TCS Research, Delhi & Kolkata (July 2019-June 2023)
Gunjan Lal, Adobe Systems, Noida (July 2017-June 2021)
Neeldhara Misra, IIT Gandhinagar (July 2019-June 2023)

Past Chair: Arati M. Dixit, Independent Consultant, Pune

ACM-W India news and activities

Contact: acmw_india@acm.org
For Practitioners
ACM Queue's "Research for Practice" serves up expert-curated guides to the best of computing research, and relates these breakthroughs to the challenges that software engineers face every day. This installment, "The DevOps Phenomenon" by Anna Wiedemann, Nicole Forsgren, Manuel Wiesche, Heiko Gewald and Helmut Krcmar, gives an overview of stories from across the industry about software organizations overcoming early hurdles of adopting DevOps practices, and coming out on the other side with tighter integration between software and operations teams, faster delivery times for new software features, and achieving higher levels of stability.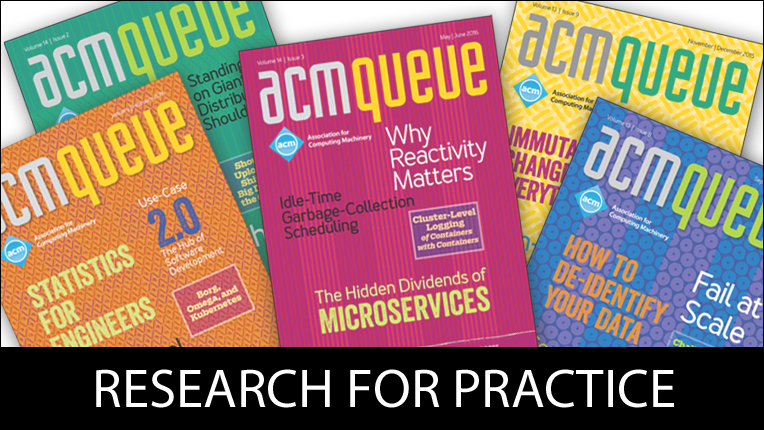 Why I Belong to ACM
Hear from Bryan Cantrill, vice president of engineering at Joyent, Ben Fried chief information officer at Google, and Theo Schlossnagle, OmniTI founder on why they are members of ACM.
Written by leading domain experts for software engineers, ACM Case Studies provide an in-depth look at how software teams overcome specific challenges by implementing new technologies, adopting new practices, or a combination of both. Often through first-hand accounts, these pieces explore what the challenges were, the tools and techniques that were used to combat them, and the solution that was achieved.