Vivek Kulkarni
Eminent Speaker
Short CV: Vivek Kulkarni is currently working as Associate Vice President-Engineering at Persistent LABS, Persistent Systems Ltd. He has a total experience of 25+ years in academia and software industry. He has served as a subject chairman for multiple subjects for the Board of Computer Engineering, University of Pune in the past. He has written multiple books on "Theory of Computation"; these include the recent one of the same title with Oxford University Press that was published in April 2013. This book has been recommended by Pune University as a reference book, in their newly revised 3rd year computer science syllabus. He has also worked in organizations such as BMC Software, Symantec Corporation, and Tech-Mahindra. He holds an international patent, "System and Method of Universal Programming Language Conversion", in his name as an inventor. He is also a member of Academic Council for Vishwakarma Institute of Information Technology (VIIT), Pune since May 2014. He is member secretary of Executive Council of Inter Institutional Inclusive Innovations Centre. He is also a Board of Studies member for Pune University for the Information Technology stream and a Board of Studies member for MIT School of Engineering, a constituent of MIT Art, Design and Technology University, Pune.
Title of Talk 1: Theory of Computation
Synopsis: Overview of basic concepts such as symbols, alphabets, sets, relations, graphs, strings, and formal languages. Important topics covered will be: finite state machines, regular expressions, grammars, and pushdown stack-memory machine, Turing machine, parsing techniques, Post machine, etc. Emphasis is on Turing machine model and the symbol manipulation theory. Applications of the subject are also covered.
Title of Talk 2: Compiler Construction
Synopsis: Overview of the basics of compilation theory with the five-phase compiler model. Parsing techniques and the automated parser generation are covered. The details of intermediate code generation, especially three-address codes are also touched. Code optimization/modification is conveyed with examples. The intent is to give some flavor of the tools like Lex/Yacc and ANTLR.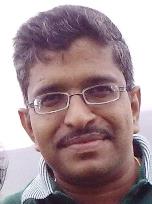 Vivek Kulkarni
Qualifications: B.E. Computer Science
Title: Delivery Head and Chief Architect
Affiliation: Persistent Systems Ltd.
Contact Details: vivek_kulkarni@persistent.com