ACM-W India
ACM-W India seeks to take forward the task of the ACM community, but with a particular focus on the empowerment of women in computing in India.
ACM-W supports, celebrates, and advocates internationally for the full engagement of women in all aspects of the computing field, providing a wide range of programs and services to ACM members and working in the larger community to advance the contributions of technical women. ACM-W Student Chapters are created to help recruit and retain students in computing programs. Professional Chapter-sponsored activities educate women about careers in computing and provide networking opportunities.
ACM-W India aims to provide social and professional support for women in computing, and its proposed activities include:
Facilitate technical growth of women by organizing invited lectures, seminars, workshops and informal meetings
Provide a platform for the sharing of information, resources, ideas and experiences
Support women in their professional career growth and help them to face the challenges in their work environment
Encourage them to participate in computer-related studies and research
ACM-W India's goal would be to also promote computer literacy, particularly in rural India, with the objective of empowering underprivileged women and children, to enable them to be independent and self-reliant.
ACM India-W Committee (1 July 2023 to 30 June 2025)

Chair: Rutvi Shah, CPICA, Sardar Vallabhbhai Global University, Gujarat.
Vice Chair : Manik Gupta, BITS Pilani, Hyderabad Campus.
Secretary /Treasurer : Geetanjali V Kale, PICT, Pune.
Members-at-Large (1 July 2023 to 30 June 2025)
Mukta Paliwal, AD, Data Science, Novartis Pharma Inc, India
Members-at-Large (1 July 2023 to 30 June 2027)
Alpana Dubey, Accenture, Bangalore.
Bhavana Kanukurthi, IISc, Bangalore.

Jayashree Mohan, Microsoft Research, Bangalore.

Mini Ulanat, CUSAT, Cochin.

Renuka Sindhgatta Rajan, IBM, Bangalore.

Sriparna Saha, IIT Patna.
Past Chair: Heena Timani, Director, iAnanya Datalytix Pvt. Ltd.
Contact: [email protected]
Read about Hackathons, Celebrations, Summer Schools and more events ACM-W India hosts throughout the year.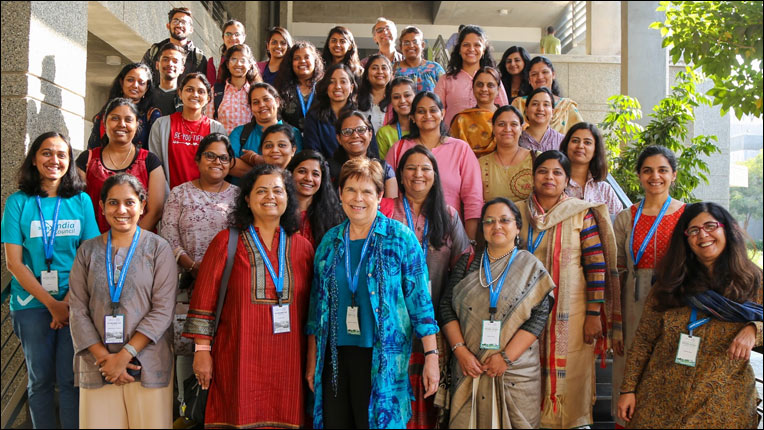 Rutvi Shah
ACM-W India Committee Chair Rutvi Shah has been volunteering ACMI-W since 2015, and has been instrumental in organizing events, conferences, workshops, and seminars focused on women in computing. She has served as Web Chair for the Ahmedabad Professional Chapter and as Secretary cum Treasurer on the ACMI-W Committee from 2021-23.
She has been in academics for 18 years and is currently associated with Sardar Vallabhbhai Global University, Ahmedabad, teaching at UG and PG Computer Applications Courses. She holds a PhD in Computer Science with research area focused on automated systems for medical image processing. She has undertaken research endeavours encompassing the realms of Data Science, Machine Learning and their affiliated areas. She hosts sessions for trending research areas, is on the board of the Technical Program Committee, and is a reviewer of various reputed International Conferences.
She believes that by leveraging her capabilities in information retrieval, analysis, and communication, she can be pivotal in generating strategic guidance in bridging the gender gap, nurturing talent, and championing diversity in the Indian technology landscape.