Mukta Paliwal
Eminent Speaker
Short CV:
Mukta Paliwal is a practitioner in machine learning algorithms and statistical data analysis. Her area of expertise includes algorithms dealing with prediction and classification problems spread across multiple domains.
Currently, she is working as Technical Expert, Data Science Domain in Persistent Systems Limited, Nagpur. She has worked in multiple domains like e-Commerce, Life Sciences, Smart City, Government Business, Retail, Email Security, Crime Analytics where AI and ML techniques are used to solve business problems. She recently received Excellence in Technology Award for her work in machine learning area at the annual event in Persistent and Industry Innovation Award during the 28th ICMOT held first time in India at NITIE Mumbai.
She is a PhD and Post Doc from IIT Bombay in Applied Machine Learning. She is awarded with Excellence in Thesis for her research work at IIT Bombay and received a gold medal for PG program in statistics from Indore University.
She has several research publications in national and international journals and has made presentations in conferences in India, Singapore and USA.
Title of Talk 1: AI/ML Trends from Industry
Synopsis: This talk was conducted at GDG conference of developers, essentially an introductory talk for budding developers in the area of ML/AI for the work that is being taken up in Industry. Latest trends from the industry with current applications with emphasis on technological trends. Essentially, how ML Engineering is evolving in the IT industry with more and more ML projects going into productions and what are the practical challenges that are faced by engineers.
Title of Talk 2: Supervised/Unsupervised Machine Learning Algorithms Using Python or R
Synopsis: This talk is generally for engineering students with hands-on lab exercises and can be conducted as a workshop. This is for beginners in the fields or can be specialized session on any of the particular topics that comes as Supervised or Unsupervised Machine Learning algorithms. I have conducted such sessions multiple times in various engineering colleges.
Title of Talk 3: Analytics in Industry: Few Insights on Role of Analytics in Smart City Development
Synopsis: These sessions were conducted for FDP programs with actual implemented solutions as a demo. This is to showcase how to use ML and analytics to derive insights from actual data and build software solutions in the context of Smart City development.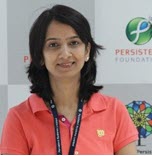 Qualifications: PhD, IIT Bombay
Title: Technical Expert (Data Science)
Affiliation: Persistent Systems
Contact Details: paliwalmukta@gmail.com