R Venkateswaran
Eminent Speaker
Short CV: As the SVP of Engineering, Venkateswaran (Venki) is responsible for product development, with an obsessive focus on delivering solutions that are high-quality, best-in-class, and innovative. Venki joined Persistent Systems in 2002 and has undertaken various roles during his tenure, including that of Chief Technology Officer, Head of Strategic Initiatives, and Business Head for the Telecom Business. Prior to Persistent, he worked for seven years as a researcher at Bell Laboratories and also at the CTO office at Lucent Technologies. He earned his B.Tech and M.Tech in Computer Science from IIT Bombay and he holds a PhD in Computer Science from Washington State University. His PhD research focus was on Multicast Routing Protocols. He holds multiple patents in the area of ATM Multicasting, and has authored numerous research papers that have been published in prestigious journals.
Title of Talk 1: Evolution of Internet: The Past, Present and Future
Synopsis: This talk covers the first 40 years of Internet evolution—the initial 20 years on the growth, the subsequent 20 years on the challenges of scale and speed. Drawn from personal experiences and insights, this talk presents the various technology options and architectural decisions that have helped Internet to scale to the heights we know today. The last part of the talk presents the challenges for next generation Internet and the current research in areas such as Software-Defined Networks and Network Function Virtualizations.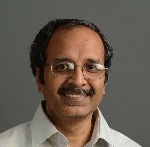 Qualifications: PhD in CSE, Washington State University
Title: Senior Vice President
Affiliation: Persistent Systems Ltd., Pune
Contact Details: venki@persistent.com