Y. Raghu Babu Reddy
Eminent Speaker
Short CV: Raghu Reddy works as an Associate Professor at IIIT Hyderabad and heads its Software Engineering Research Center. His primary research interests are in design and construction of complex software systems with specific focus on Aspect oriented software development, Model driven architectures and Usability. He was also the IIIT Head for the CA-IIIT innovation center at CA Technologies, Hyderabad. He has published a book and several peer reviewed papers internationally. He has served on the organizing or program committees of several international conferences and journals.
Previously Reddy was an Assistant professor of Software Engineering at Rochester Institute of Technology (RIT), New York, the first ABET accredited undergraduate program in USA. At RIT he played a major role in developing the Master's program in Software Engineering. He has also worked on projects with companies like CA Technologies, Alstom Signaling, Nokia, TCN telecom, Qwest, etc. and governmental agencies like MHRD and DIT. Reddy received his doctorate from Colorado State University.
Title of Talk 1: Are You a Software Engineer? Or Is It Just Your Designation?
Synopsis: India produces nearly half a million engineers on annual basis and about 20-25% of these are employed by the Indian IT Industry. Most of the folks employed in the IT industry seem to be called software engineers but do not understand the foundations of the discipline. This talk will focus on the discipline of Software Engineering and the need to understand the differences between Software Engineering and other Computing degrees. It will also stress on the changing trend of "Licensing" Software Engineers.
Title of Talk 2: Model Driven Development with UML 2.x: Challenges and Opportunities
Synopsis: Model driven development (MDD) is concerned with reducing accidental complexities arising in complex software through the use technologies at different levels of abstraction. The talk provides an overview of the various MDD principles, the state of the art and the challenges/opportunities arising out of MDD.
Title of Talk 3: Success Factors for Websites: Usability and Credibility
Synopsis: Research has shown that the usability and the perception of credibility are key factors that can make a website successful and influence the user's preference for choosing and using a website. The talk will focus on the two important factors: Usability and Credibility. These factors will be discussed from the perspective of a web designer as well as the end user. This talk will outline various models and corresponding research results.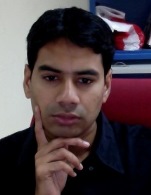 Y. Raghu Babu Reddy
Qualifications: Ph.D., Colorado State University
Title: Associate Professor and Head
Affiliation: Software Engineering Research Center, IIIT Hyderabad
Contact Details: raghu.reddy@iiit.ac.in