Summer School on Natural Language Processing Hosted by IIIT Hyderabad (online)
Sponsored by Microsoft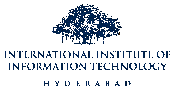 Dates: 5 to 16 July 2021
Academic Coordinators:
Organizing institution: IIIT Hyderabad
Platform: Google-Meet/Microsoft Teams/Zoom
Description of school:
The proposed school aims to create awareness among the under-graduate and postgraduate students in Natural Language Processing (NLP). The school will focus on foundational knowledge in NLP, the current state-of the-art research challenges and opportunities, and future trends. A salient aspect of this school is to emphasize hands-on sessions with suitable case studies.
List of subtopics:
Foundation for NLP
Introduction to NLP
Python for NLP
ML for NLP
NLP tools
Language modelling
Shallow parsing
Advanced NLP
DL for NLP
Meaning representation

Global vectors
Contextual vectors

BERT and associated models
Application
Machine translation
Information extraction and question answering
Information retrieval
Text summarization
Partial list of speakers:
Manish Shrivastava (IIIT Hyderabad)
Naresh Manwani (IIIT Hyderabad)
Mayank Singh (IIT Gandhinagar)
Vasudeva Varma (IIIT Hyderabad)
Ponnurangam Kumaraguru (IIIT Delhi)
Sandipan Dandapat (Microsoft)
Anoop Kunchukuttan (Microsoft)
Monojit Choudhury (Microsoft)
Pushpak Bhattacharya (IIT Bombay)
Background/prior courses recommended:
Basics of Probability and Statistics
Linear Algebra
Python
Data Structures and Algorithms